2021 Ford Bronco Sport in Fredericton, NB

2021 Ford Bronco Sport  - Overview
The new 2021 Ford Bronco Sport has hit our Ford showroom, and we couldn't be more excited. We have been waiting on the edge of our seats for the all-new 2021 Bronco to hit the streets of Fredericton, and we know you have too. This tough SUV was a Canadian icon of off-road fun and an adventurous lifestyle for over thirty great years. Ford stopped production in the late 1990s, and we couldn't be more excited for its comeback.
Like previous models, it is a mid-size, 4x4 SUV built with adventure in mind. This time around, buyers will also get modern-day smart technology and a bold new look that's certain to draw attention wherever it takes you.
With the excitement over this new model growing every day, a lot of restored, older Broncos have emerged for sale online with extremely high price tags. We're very grateful to say that it looks like the new 2021 Ford Bronco Sport won't be nearly that expensive and made affordable for all automotive consumers with a daring side. You can visit our Finance Centre to explore your auto loan and lease options or complete a secure online credit application for pre-approval today.
2021 Ford Bronco Sport - Interior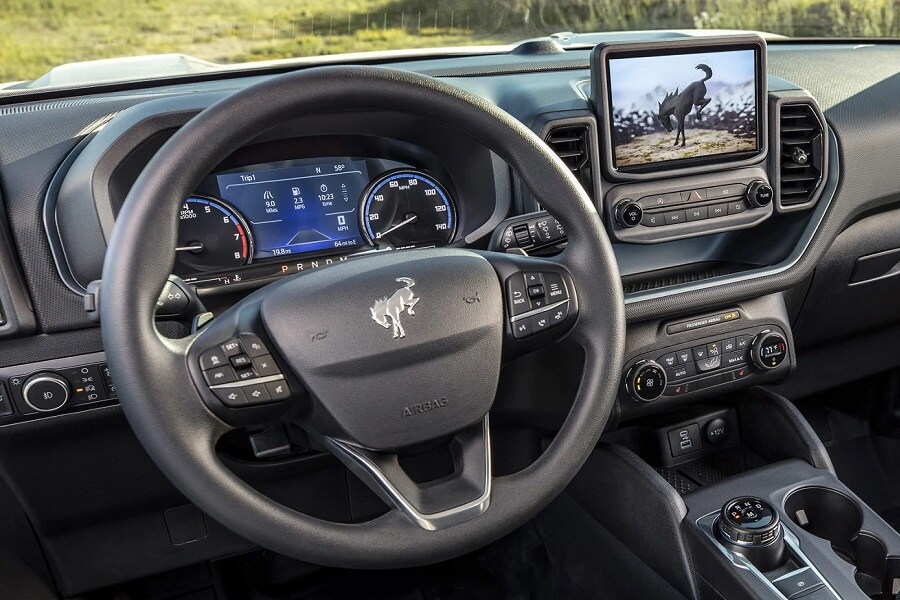 2021 Ford Bronco Sport - Exterior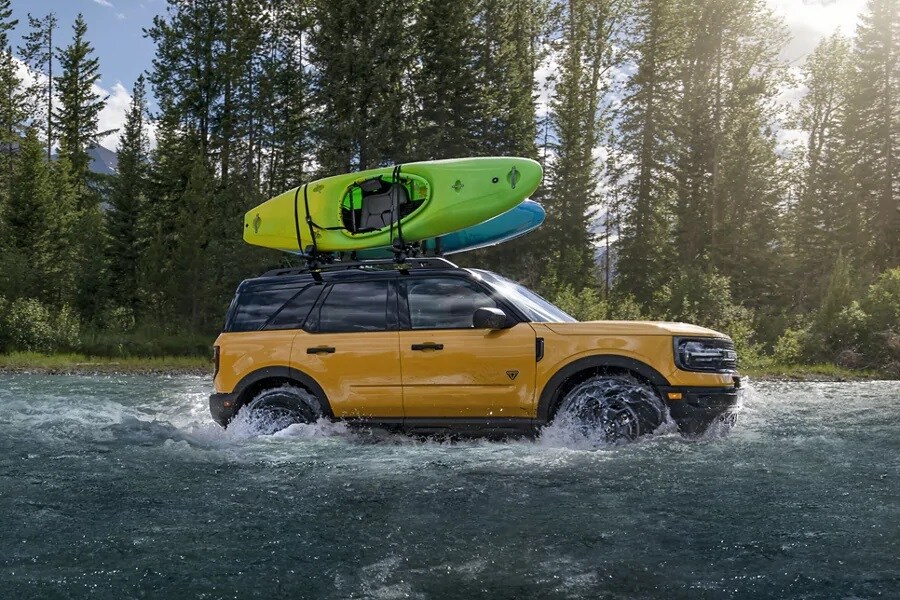 2021 Ford Bronco Sport Capabilities
The 2021 Bronco Sport has the ability to take you where the fun is. With an advanced 4x4 with Twin-Clutch Rear Drive Unit and the Terrin Management System with seven G.O.A.T (Goes Over Any Type of Terrain) modes, it can take you places you never imagined possible. Whether you are an off-road warrior, experienced mountaineer, or slackliner, the 2021 Bronco Sport for sale in Fredericton, NB, will help you become the adventurer you were meant to be.
The 2021 Bronco Sport isn't one to shy away from a challenge. With 23.6-inches of water-fording and the soul of a Ford vehicle, the adventure path is limitless. You can also stay clear of fallen branches, sharp rocks, and other obstacles. The available ground clearance is 8.9-inches, making it easy to navigate trails that other vehicles wouldn't dare. That coupled with 235/65R17 tires and you get unsurpassed best-in-class maneuverability.
2021 Ford Bronco Sport Design
Like any breathtaking view, a picture does not do it justice. Join us at our location to meet this beautifully built SUV, face to face. But for now, let us tell you a little about the Bronco Sport design. The new Bronco Sport exterior is made with a strong silhouette, effective yet simple. True to Bronco DNA. It has a wide stance, elevated body, and shorter wheelbase project confidence on the trail and the road. It offers thoughtful features for utility during any drive. Roof racks are available to load your gear, rear liftgate floodlights illuminate the space around you, and standard Tow Hooks help you bring along all your toys.
The 2021 Ford Bronco Sport interior has ample seating for five with best-in-class 1st and 2nd-row headroom. It also features best-in-class cargo volume and a durable yet easy to clean interior. The unique Cargo Management System on the Bronco Sport gives you the ability to create shelves and dividers for essential items like coolers and hiking boots. Alos with additional available, secure cargo areas throughout the interior, you have a place to hide or tie-down valuables as you head out for the day.
The height provided by the Safari-Style Roof means more space. After packing and getting on the road, the 2021 Bronco Sport makes sure to remember all the little stuff. Its thoughtfully laid-out interior features offer added convenience. You can enjoy technology that includes SYNC 3, GPS breadcrumb navigation, and FordPass Connect. Available Ford technology not only makes your travels so much easier but also give you the tools you need to conquer the dust and the dirt.
Contact Riverview Ford Today
For your chance to test drive the all-new 2021 Ford Bronco Sport in Fredericton, NB, be sure to contact us to schedule an appointment. We are certain the moment you set your eyes on this spectacular SUV or get behind the wheel of possibilities, you will want to become a new Ford owner as quickly as possible.
Make an Inquiry