2021 Ford Bronco In Fredericton, NB

Come In and Test Drive The 2021 Ford Bronco
Riverview Ford dealership is the preferred Ford dealership in Fredericton, New Brunswick, and serving Oromocto, Hampton, Saint John, Moncton, Woodstock, Sussex, and surrounding areas. We sell the newest Ford vehicles and invite our customers to complete the online finance application when you're ready to sit behind a new car.
Overview of the 2021 Ford Bronco
The 2021 Ford Bronco is a legendary and iconic vehicle that stands out for it's retro and fun styling. The car's off-road capability makes it possible to tackle different terrains and roads with ease and comes standard with a manual transmission. The vehicle's interior comes with an abundance of waterproof materials and surfaces to ensure it holds up well when you're driving through creeks or mud. Drives can choose between a two- or four-door style. Drivers will find it comes with a highly capable drivetrain and chassis, making it more competitive with other vehicles in its class. The vehicle's old-school vibe and design make it have a high level of appeal and offer something different than other off-road vehicles in the industry. It has a trim to accommodate every type of driver and includes excellent suspension for those who want more off-road abilities.
2021 Ford Bronco Interior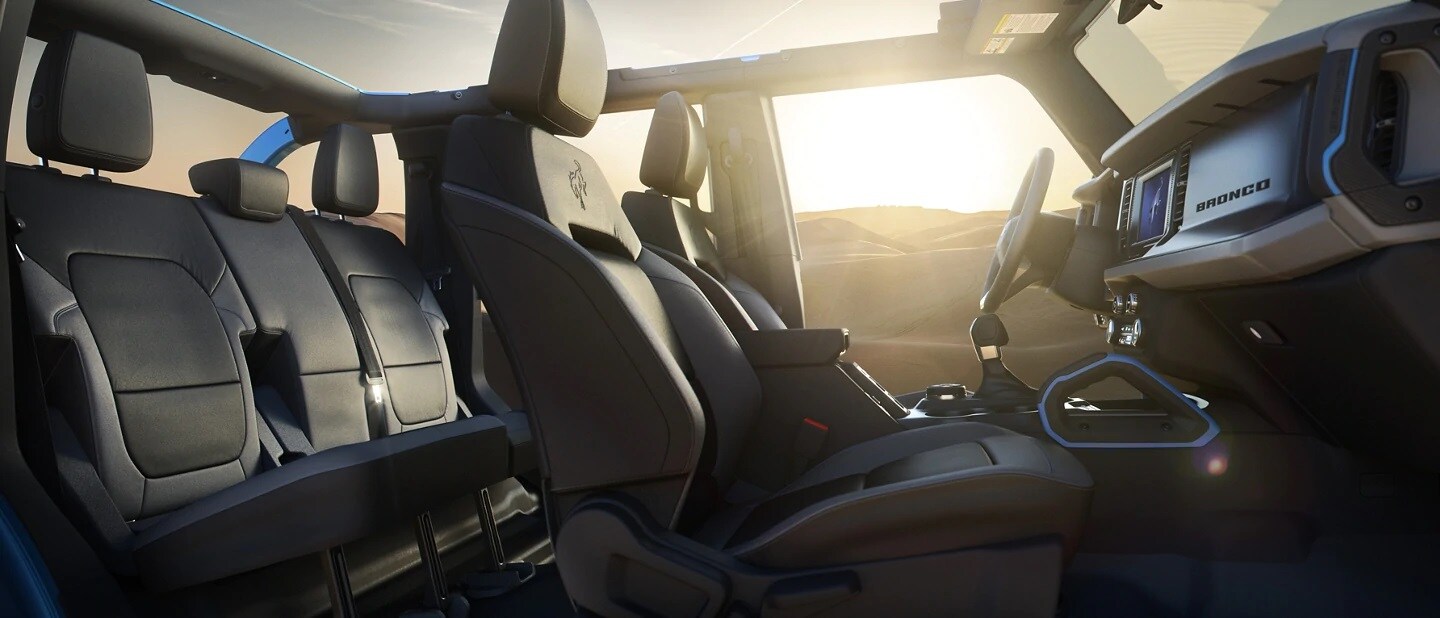 2021 Ford Bronco Exterior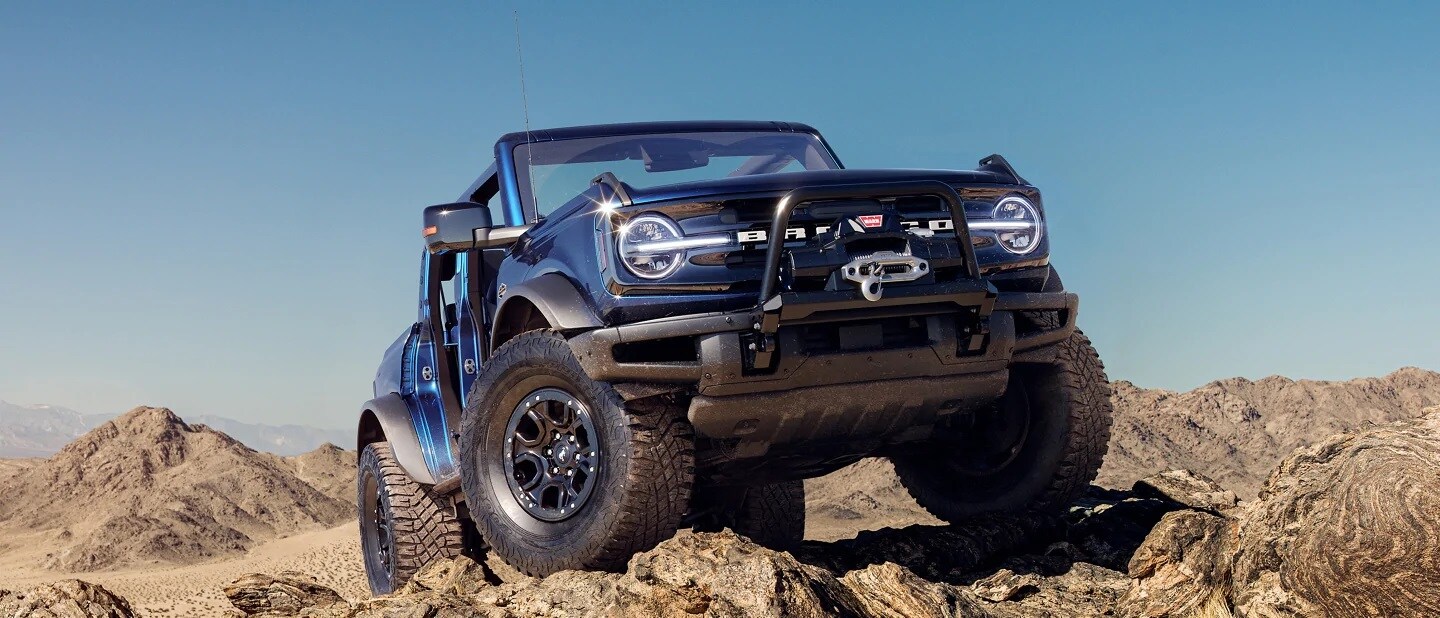 2021 Ford Bronco Capability, Exterior, and Interior Features
The 2021 Bronco's exterior is one of its main selling points because of how hip it looks when you're driving to work or are tackling a steep incline. The SUV has a large stance and looks sleek and trendy with its unique colour options available. It comes standard with a turbocharged2.3-litre inline-four to ensure you get 270 horsepower with 310 pound-feet of torque. Those who seek more power and off-road performance can upgrade to the twin-turbo2.7-litre V-6 engine to get 310 horsepower and 400-pound feet of torque. Both engines pair well with a 10-speed automatic engine. Additional components of the car that boost its performance include the bed-lock heels, 35-inch tires for the mud, long-travel dampers, electronic locking front and rear differentials. Many rubber switches come retained on the dashboard. Leather upholstery is also an option if you're looking to make the cabin feel more luxe and upscale.
The vehicle even has 11.6 inches of maximum ground clearance to ensure you can ride high and go over larger bumps and obstacles. It also can drive through 33.5 inches of water. The car also has hard and soft rooftops available, depending on how you plan to enjoy and use the vehicle. Those who expect to go on more adventures can even choose to upgrade to rubberized flooring durable vinyl upholstery. Trail sights are also present on each fender's top for tie-downs and when finding corners as you make tight maneuvers.
Although the Bronco comes redesigned, it's new look doesn't prevent it from remaining recognizable for drivers familiar with the vehicle and appreciate the classic style. The body panels also come off the car quickly if you want to avoid getting in and out of the car easier while driving around town or exploring the great outdoors.
2021 Ford Bronco Technology
Although the 2021 Bronco looks retro and vintage, it still incorporates plenty of advanced gadgets and tech features. The vehicle comes with an eight-inch touchscreen. Consumers can also upgrade to the larger 12-inch touchscreen. Many modern infotainment features also offer a high accommodation level to ensure the driver and passengers can access Android Auto, Apple CarPlay, and a Wi-Fi hotspot if you sign up for a subscription.
Safety is also a top priority with the new Bronco for those who want to have more peace of mind without compromising the level of fun they enjoy off the beaten path. The Bronco comes with useful safety features like forward-collision warning and automated emergency braking, blind-spot monitoring, lane-departure warning, lane-keeping assist, rear cross-traffic alert, and mechanical emergency braking. Parking sensors and automatic high-beams are also available add-ons for improved safety and driver confidence. You can also utilize included equipment for trail driving and speed rock crawling to make it more efficient and enjoy added versatility while off-roading.
Contact Riverview Ford Today
We invite you to contact us to schedule a test drive of the 2021 Bronco to discover how well it performs with one of our team members' help. You can also check out our new inventory of vehicles and explore the many options we have available when you're ready to purchase a new car.
Make an Inquiry