2021 Ford F-150 in Fredericton, NB

Order the 2021 Ford F-150 at Riverview ford lincoln
The 2021 Ford F-150 for sale in Fredericton, New Brunswick, is back, and it is more robust and smarter than ever before. We are the leading and most preferred Ford dealership in Fredericton, New Brunswick, and we serve Woodstock, Moncton, Saint John, Oromocto, Sussex, and the surrounding areas. Our dealership sells all the new Ford models, including the 2021 Ford F-150. Interested buyers can complete our online finance application and get pre-qualified. They can also contact our dealership store to schedule a test drive.
2021 Ford F-150 Trims
We advise our customers always to check the trims of the vehicles they want to purchase. This gives them a chance to pick out the trim with features that they desire. The 2021 Ford F-150 comes in six trim levels, and each trim boasts of different features and capabilities. They include:
Ford F-150 XL:

This trim model boasts of a substantial interior and exterior design. It consists of durable materials, starting from the wheelbase, interior leather seats, the steering wheel, and the safety and technology features. This model has a strong engine and other capability features that take you wherever you want to go.

Ford F-150 XLT:

This trim is famous for several reasons. First, it boasts a comfortable driver's seat, a substantial wheelbase, and a 12" infotainment touchscreen. It has a modern slate interior design, a fold-down console, and a 40/20/40 bench seat.

Ford F-150 LARIAT Sport:

As the name 'Sport' suggests, the LARIAT is a rather tough vehicle with high standard features. It boasts of a Vintage Carmine interior, leather-wrapped steering wheel, and leather-trimmed Captain's Chairs. Like the XLT, this Sport model has a standard 12" touchscreen.

Ford F-150 King Ranch:

This trim has a Java Ranch interior design coupled with genuine wood-trimmed accents. The vehicle boasts of comfortable interior space with heated and ventilated leather seats. The car has some carpeted floor mats with the King Ranch Logo.

Ford F-150 Platinum:

This is a Premium trim model with an intriguing Carmelo interior design, Gunmetal brushed-aluminum accents. Like other 2021 Ford F-150 trims, this vehicle has a bold design and Multi-contour bucket seats. There are upholstery leather-seats with Active Motion, which gives you that needed comfort.

Ford F-150 Limited:

This trim model is the best in the 2021 Ford F-150 class. It has beautiful, Light Slate and Admiral Blue bucket seats that usher in the interior design. The dashboard has coordinated leather, a leather-wrapping steering wheel, door inserts, and a console lid. This trim has fine-crafted details that add to the vehicle's detail.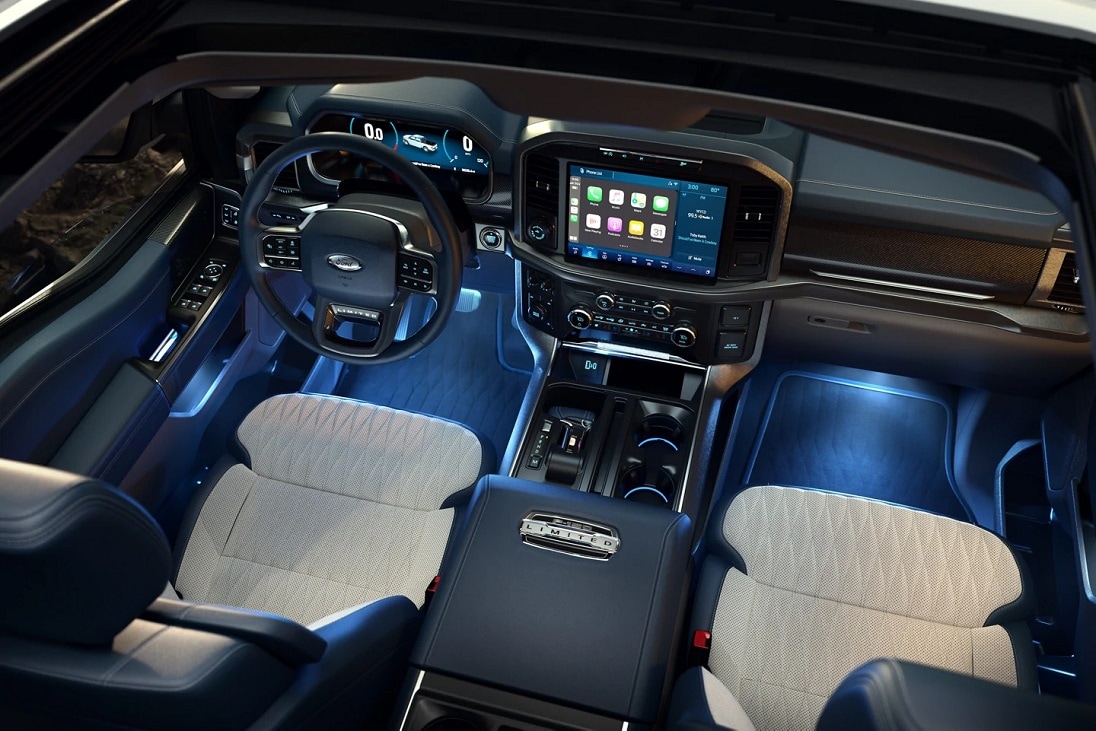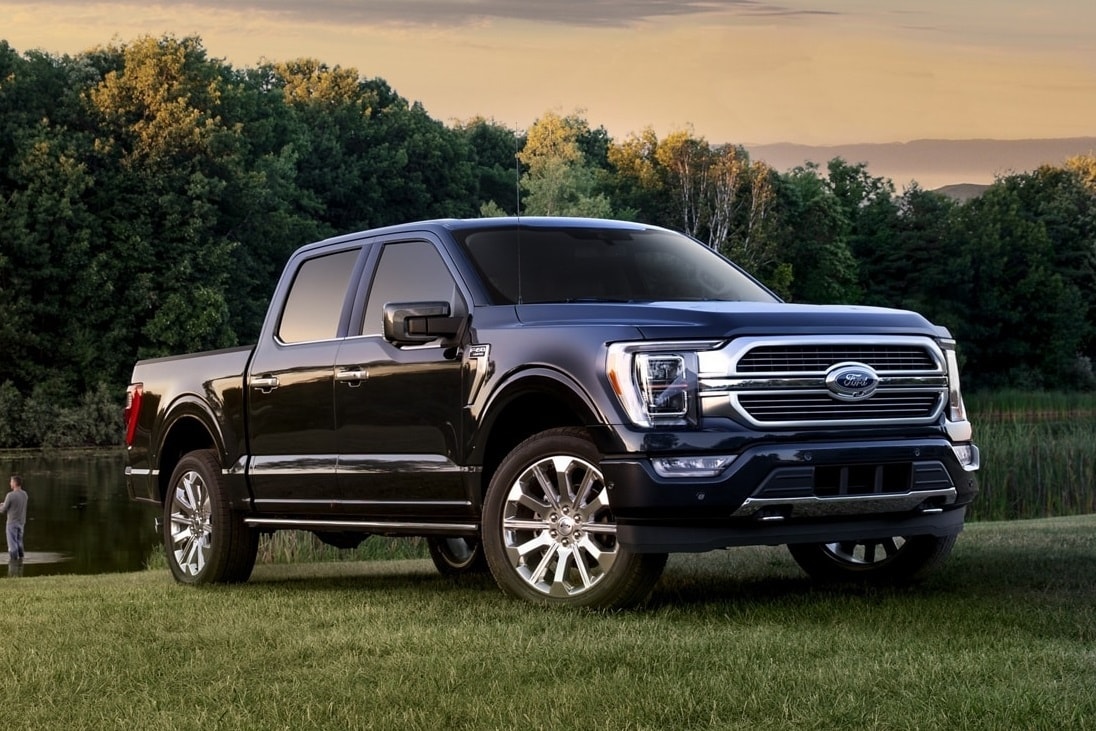 2021 Ford F-150 interior and exterior design
The 2021 Ford F-150 for sale in Fredericton, New Brunswick, has an impressive interior and exterior features. The vehicle's exterior has high-strength, military-grade, and an aluminum-alloy build. It has a strong steel frame that gives the car the power to withstand any job that you throw at it. The exterior has a colorizer that offers you a chance to pick some of the colours you would want on your vehicle. They include Race Red, Agate Black, Stone Grey, Velocity Blue, and Oxford White.
The all-new 2021 Ford F-150 interior features include new materials and appointments that give the driver and their passengers comfort throughout the year. The interior has available zone lighting that lights up specific 360-degree spots as you drive through your favourite city. The FordPass app controls all the available zone lighting. There is the available rear-under seat storage that keeps your essential staff safe in the folding under-seat box. This storage is in contact with the floor, and it keeps your things safe and secure. If you need a quiet and comfortable rest after a long day, you can fold the new available Max Recline seats to take that needed break.
2021 Ford F-150 Technology and Safety Features
The Ford F-150 is smarter than ever, thanks to its high-tech in-built features. There is the available Standard Sync 4 that gives you total control of the in-built tech features. This feature comes with several tech features, including Voice recognition and cloud-based connectivity. Through Standard Sync 4, you will receive constant over the air updates that improve your vehicle's tech and saves you the need for endless repair trips. The Standard Sync 4 keeps you safe on the road thanks to the Intelligent Adaptive Cruise Control with Stop-and-Go, which helps slow down your vehicle if the traffic ahead slows down or completely stops. It also has an available Blind Spot Information System with Trailer Coverage. This feature boosts your confidence on the road because it alerts you after detecting a vehicle in your blind spot area.
2021 Ford F-150 Performance
This vehicle boasts of unmatched power and capability. It boasts of about six powerful and relentless engine capacities. The 2021 Ford F-150 performance specs include the Pro Power Onboard Feature that gives your vehicle the ability to behave like a mobile generator. It has a standard 3.5LPowerboost, V6 transmission engine, delivering incredible power. The vehicle can manage to drive through a targeted distance of 1120km. The car has a towing capacity of up to 8,500lbs, which means it can tow just about any weight. Other performance features include the Best-In-Class Payload, which gives the vehicle the ability to get things done.
Order the 2021 Ford F-150 Today
Interested customers residing in Fredericton, New Brunswick, and surrounding areas can visit our dealership store for more information about the new Ford inventory. You can also contact us to schedule a test drive.
Related Articles:
2021 Ford F-150 For Sale at Riverview ford