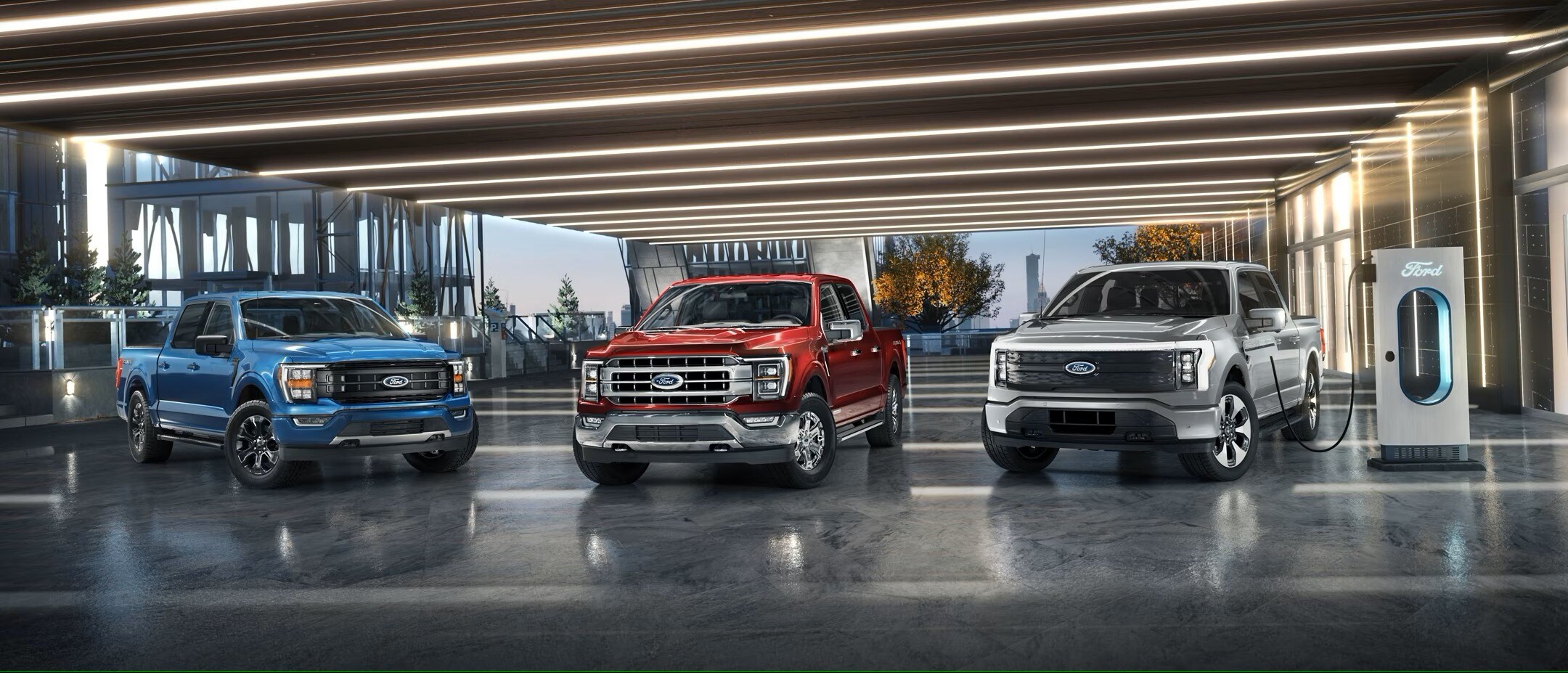 2023 Ford F-150 in Fredericton, NB
The 2023 Ford F-150 has arrived at Riverview Ford in Fredericton, New Brunswick, and it boasts a new design, powerfully capable engine options, and updated infotainment and safety technologies. The 2023 Ford F-150 is a beast of a truck and is ready to handle almost any terrain. Keep reading to learn more!
2023 Ford F-150 Interior
The model's interior is equally impressive, with many new technology upgrades. The infotainment system features Ford's Sync 4 software, and you can stream two different devices simultaneously. Wireless Android Auto and Apple CarPlay are also available, and the system is easily navigable with an 8-inch touchscreen infotainment screen which can be upgraded to a 12-inch display. The interior has ample leg and headroom, rear-seating options, and storage spaces, bringing ultimate convenience to the truck.
2023 Ford F-150 Capability
The 2023 Ford F-150 is engineered to work as hard as you do. The truck's bed has features like a built-in retractable cord, a bed extender that doubles as a step, and an innovative tailgate that can be opened vertically or folded down like a conventional tailgate. This truck also has features like the Pro Trailer Backup Assist, which makes it easy to back into any parking space and other safety features to keep your towing experience trouble-free, such as the available Smart Trailer Tow Connector and Dynamic Hitch Assist.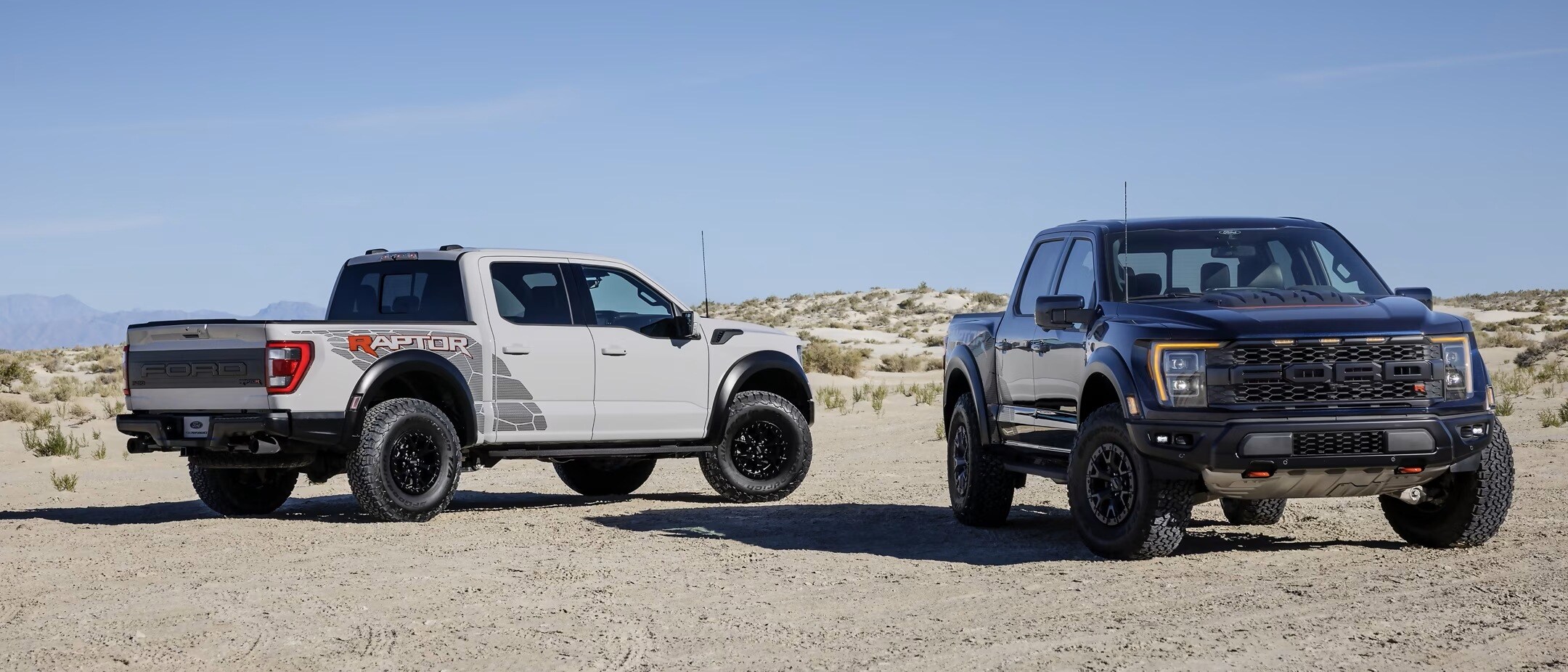 2023 F-150 New Features
The Ford F-150 continues to gain popularity as it brings more enhancements during the 2023 model year, including the new Raptor R and multiple colour options. You can customize the 2023 Ford F-150 with new body colours such as Area 51 Blue, Avalanche, Azure Gray Metallic Tri-Coat, and Hot Pepper Red Metallic Tinted Clearcoat. However, the Raptor R is the newest addition to the F-150 lineup, showcasing a high-performance 5.2L supercharged V8 engine set to produce 700 horsepower and 640 lb-ft of torque. Also, the new Raptor R will get various off-road equipment and features to support its class-leading capabilities, so speak to one of our experts today to learn more about it and how you can secure yours.
2023 F-150 Engine Options & Specifications
With its versatile platform, the new Ford F-150 meets and exceeds expectations, showcasing multiple engine options to suit various performance, capability, and fuel economy needs. As the standard engine option for this new Ford pickup truck, the 3.3L Ti-VCT V6 engine delivers 290 horsepower and 265 lb-ft of torque. Equipping the F-150 with the available 2.7L EcoBoost increases output to 325 horsepower and 400 lb-ft of torque, but the 5.0L Ti-VCT V8 engine is a great option since it has 400 horsepower and 410 lb-ft of torque. Like the 5.0L V8 engine, the 3.5L EcoBoost provides 400 horsepower but has a much higher 500 lb-ft of torque. Although those figures are outstanding, the 3.5L PowerBoost Full Hybrid V6 brings an incredible 430 horsepower and 570 lb-ft of torque. Lastly, a high-output version of the 3.5L EcoBoost V6 engine is found with the Raptor, providing output figures of 450 horsepower and 510 lb-ft of torque.
2023 F-150 Towing Capacity
The 2023 Ford F-150 is a worthy option for customers searching for a capable and durable full-size light-duty pickup truck to efficiently support a wide range of towing tasks and applications. However, the configuration and equipment selected can make the new F-150 have varying towing capabilities. With the standard 3.3L Ti-VCT V6 engine adequately equipped, the 2023 F-150 provides a healthy towing capacity of 8,200 pounds. On the other hand, opting for the 2.7L EcoBoost engine achieves a towing capacity of 10,000 pounds, while the 5.0L Ti-VCT V8 engine provides a towing capacity of 13,000 pounds. Those engine options are more than adequate for most unless you are searching for maximum towing power, which requires equipping the 3.5L EcoBoost engine and Max Trailering package to get a towing capacity of 14,000 pounds.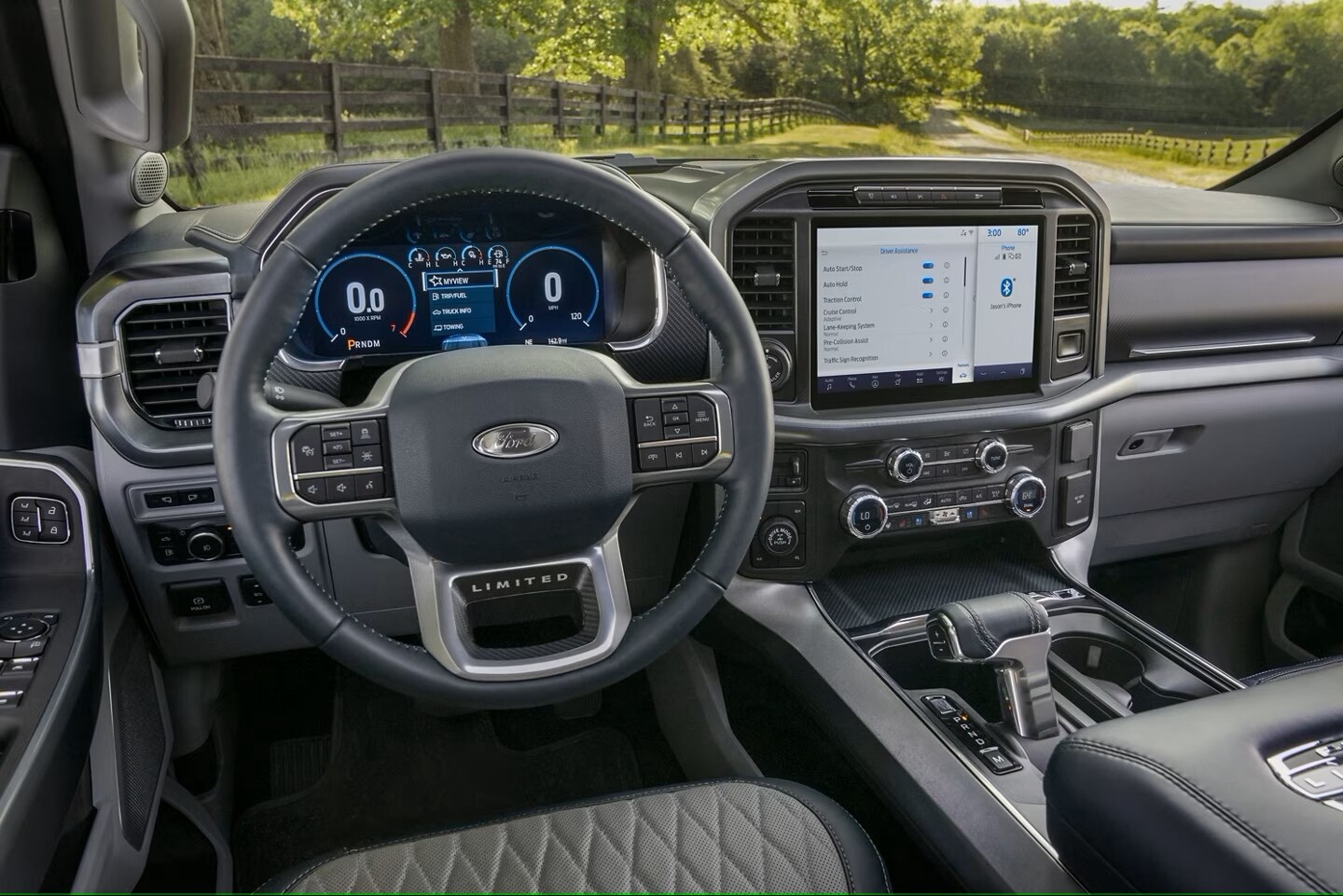 2023 Ford F-150 Exterior
The new 2023 Ford F-150 features bold, custom-designed FORD block lettering on the grille. This model is also equipped with high-intensity LED lighting that is more powerful than the last model and adds some style to the truck. The aerodynamic design incorporates great styling into everyday use and draws attention.
2023 Ford F-150 Performance
The 2023 Ford F-150 offers a bolder and more updated driving experience than other F-150 models due to a new hybrid engine with multiple powertrain options. The 2.7-litre V6 engine produces more than 325 horsepower, while the 3.5-litre twin-turbo V6 engine provides up to 400 horsepower. The engine has an automatic 10-speed transmission, and powerful torque timing engines allow for dynamic acceleration and powerful towing capabilities up to 14,000 pounds.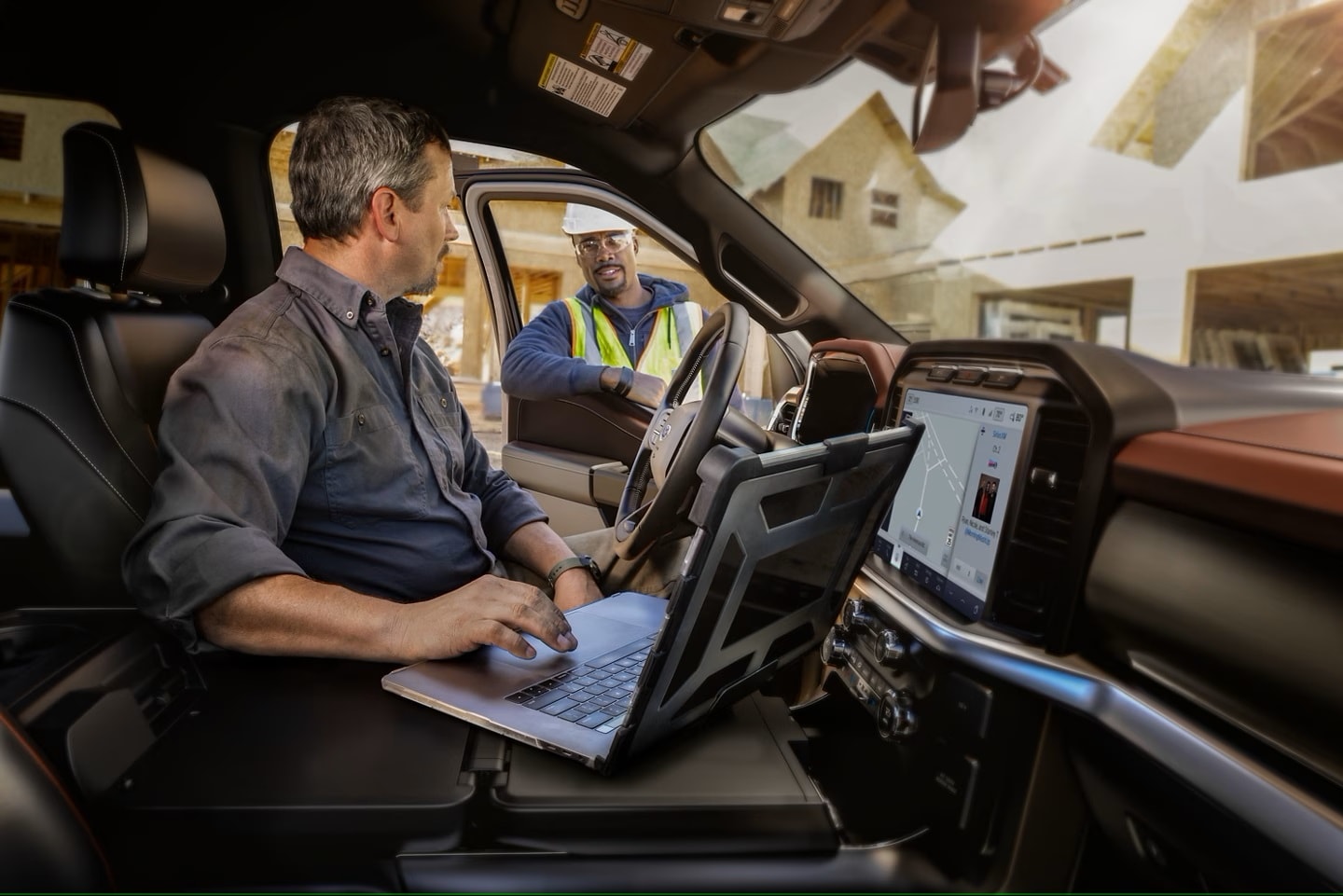 Get Your 2023 Ford F-150 Today!
The 2023 Ford F-150 is an impressive and highly capable truck, perfect for those who take their work seriously. If you are in the Oromocto, Saint John, or even Woodstock area, our dealership has 2023 Ford F-150 models for your perusal. With its combination of stunning style, technological upgrades, efficient fuel utilization, capabilities, and safety features, the 2023 Ford F-150 does not disappoint. Visit Riverview Ford in Fredericton, New Brunswick, today to check out and test drive one of our 2023 Ford F-150s from our new inventory! The team at our Finance Centre will also be pleased to assist you with finding the perfect payment plan for your budget.